So far I have cooked a few dishes on my list.
Okay so this is a baked omelette which was really easy to make and can be substituted with basically any vegetable cheese combination. I didn't buy gruyere like it said to so I only used
ricotta and Parmesan which sort of left it a little lacking. If you have bacon or ham you can put those in. And this is from a gluten free recipe so instead of rice flour you can use normal flour.
It's really easy and I'm eating it throughout the week.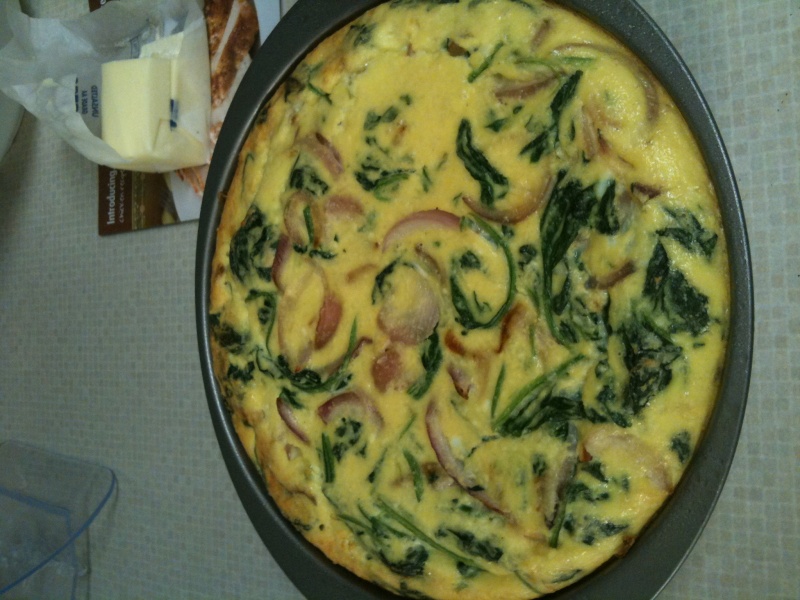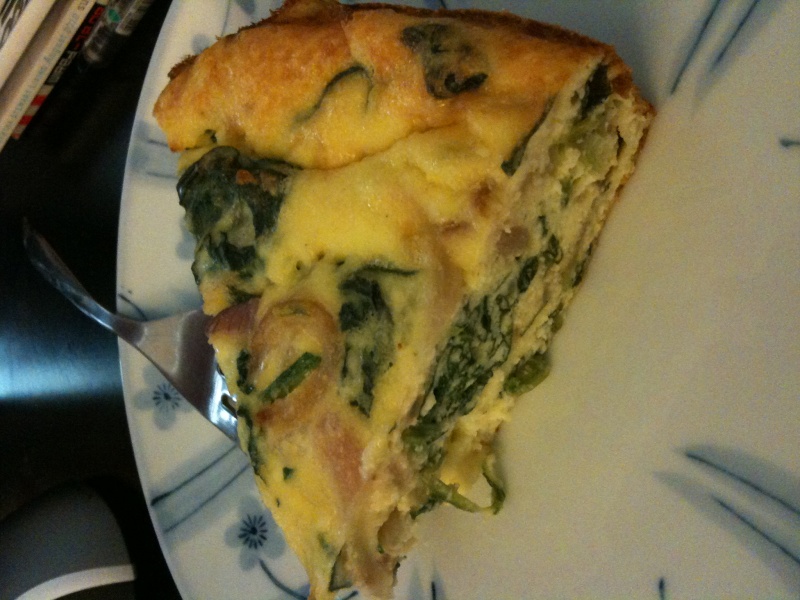 Preheat Oven to 350F
Get a 9inch round pan, theyre called springforms but I just know them as circular cake baking pan. I just greased mine with some pam spray.
Then get a pan and melt a couple pieces of
butter
with
half to a whole red onion
and let it sit in not too high of heat to let it carmelize.
Oh wow I forgot this part ... it says to add
1tsp of coriander and 2 tsp of brown sugar
>.> ... I didn't and it turned out okay hahahaha.


:

Anyway ... while this is happening I just put my bunch of
spinach
or if you measure it in the store 1 pound, it says to steam so I just put it in a microwavable bowl and
put a wet paper towel over it. I microwaved it for 3 minutes. Afterwards you (be careful it'd hot) squeeze the moisture from it. I just put it in with the onions while I did
the next part to save space. You can just set it aside if you want.
So veggies aside, it says in a food processor but I just used a whisk. Mix the
1 cup ricotta, 1/2 cup parmesan and 1/4 cup gruyere, with NINE eggs
. Mix until its like creammyy
After that mix in
1/4 cup rice flour
blend (normal flour is okay and cheaper) and 1 teaspoon of salt.
Then you just mix in the onions and spinach and pour this into the pan and cook for 45 minutes. I seriously would add some sort of meat and maybe mushrooms next time if I make it.
Or add a little more salt, something else because without it it can be a little bland.
I also did nabeyaki udon but I used soba noodles instead of udon. I think udon would have been better. This is actually a pretty good recipe.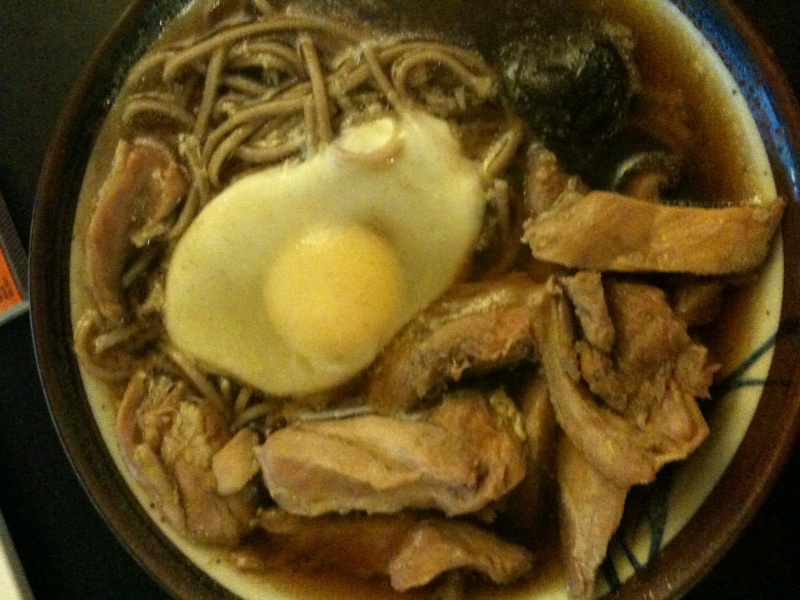 I overcooked the chicken >.>
This one is a pretty simple recipe.
This is only for one serving.
Soak
1 shiitake mushroom
in hot water (small cup or bowl okay, amount doesn't really make a huge difference)
Cut
1 chicken thigh
into small pieces big or small is up to you really, just not too big or it will take a long time to cook.
Marinate the chicken in
1TBS soysauce, 1TBS mirin, and 1TBS sake.
Cook your noodles according to its package, for soba I just cooked them for 4 minutes and put them aside though I think if the noodles are warm the
egg will cook better in the end, otherwise it cools down the sauce when they're cold.
To make the noodle broth in a small saucepan put together
1 1/4 cup dashi broth,
I used these small konbu dashi packets
that I found in a asian market theyre pretty cheap and are good for dashi. If you don't have these even though its more
expensive this way you can buy the konbu strips and soak a piece of konbu in water until it boils and add some bonito (dried fish flakes)
and then strain the flakes and konbu strip out and just keep the liquid.
Into the dashi broth add
6 TBS soysauce and 3 TBS mirin
, this seems like a lot and it will look dark, but nabeyaki is a little stronger.
Take the mushroom out and slice off its stem and cut the top in half, put the liquid into the broth.
Add the chicken pieces to the broth and let them cook, scooping the foam off the top.
You can re rinse your noodles now to warm them up or separate them.
Put your noodles into the bowl and pour the broth sauce on top.
Crack
an egg
into the top and let it poach like that.
You can put scallions on top (I didn't) and kamaboko (fish paste - I didn't have any)
Then put the chicken out of the broth on if you haven't put it in already.
It is a pretty good recipe. This recipe is from The Japanese Kitchen (Kimiko Barber)
And the omelette one is from gluten free and easy (robyn russell)
All my recipes this week will come from one or the other -
Anyway I hope someone will try out these recipes. They're pretty simple and tasty.