Today, well I was so tired because one episode of Parks and Recreation turned into like five or six, so I went to sleep at like 2 or 3am. And then ... my grandma
like woke me up this morning by asking me if I slept well, by basically hitting me on the head >.>. Like yosh, yosh, yosh ... hope you slept well but it was to me being
sort of violently waken up. We had to eat then walk to the meeting point for this 10 1/2 hour tour. To be honest places like Nijo Castle, etc. Imperial Palace, the biggest
thing to me was watching the guys garden the grounds. They pick off the like stamen parts of pines one by one >.> three guys on ladders doing it one at a time
Actualy our tour bus guide was the funniest, we had a large group of different people from all over which was sort of fun.
I'll write down what he told us ha at the end of the blog or throughout it ... some of it is sort of sad.
but first yesterday's pictures ~
Oh in Kyoto there is this textile area where they do a lot of sort of older textile production.
This was a Kimono show in this shopping place, just a small one.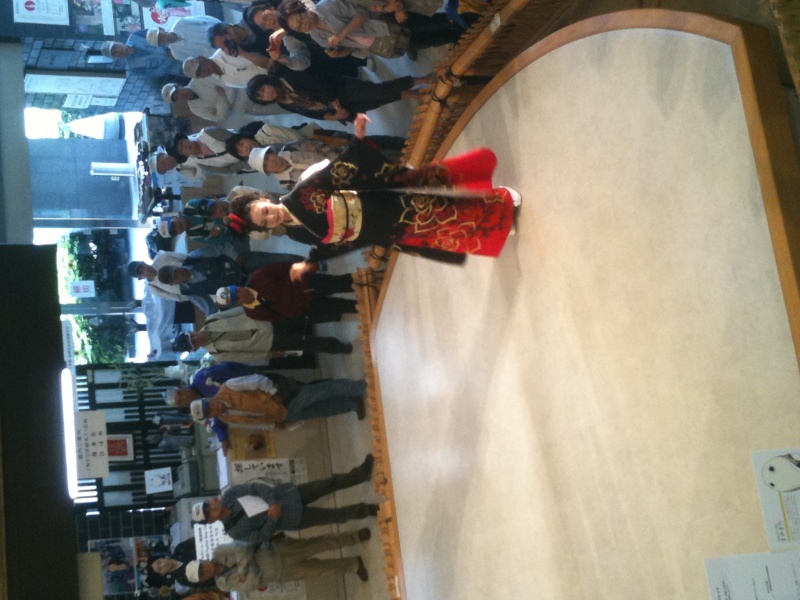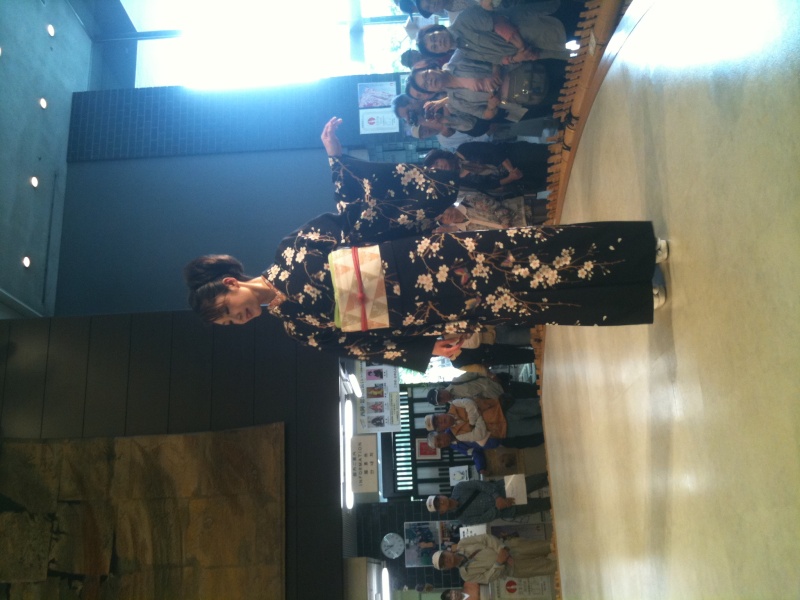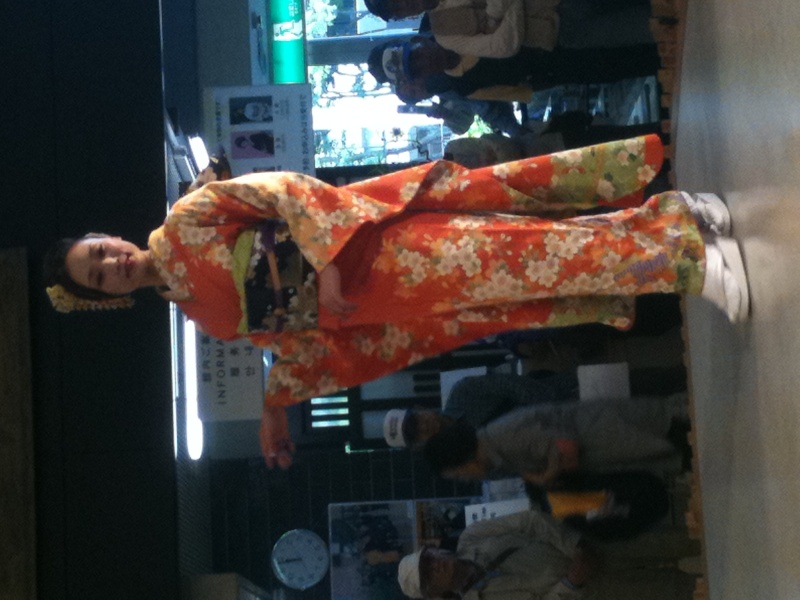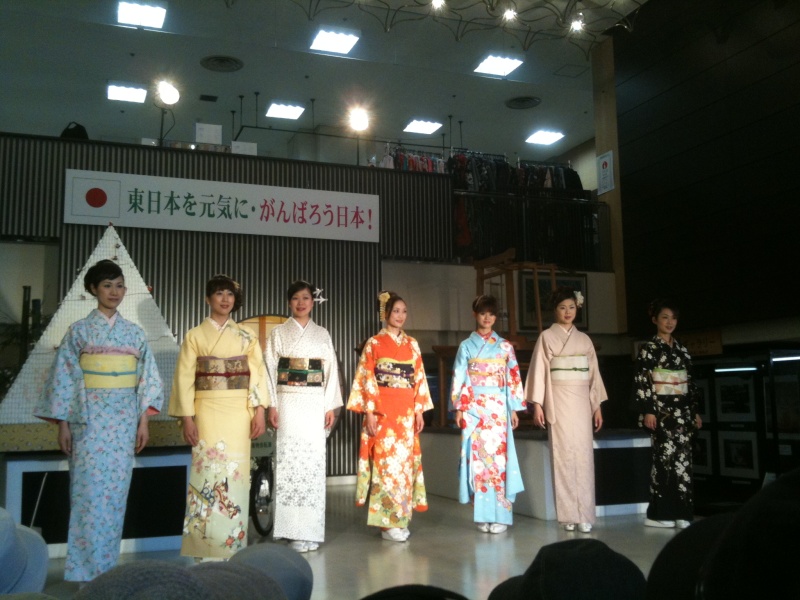 okay 300yen dango WTH! It was so good and sort of well known around the area.
They come out fresh and people sort of run in and grab and throw money to the people.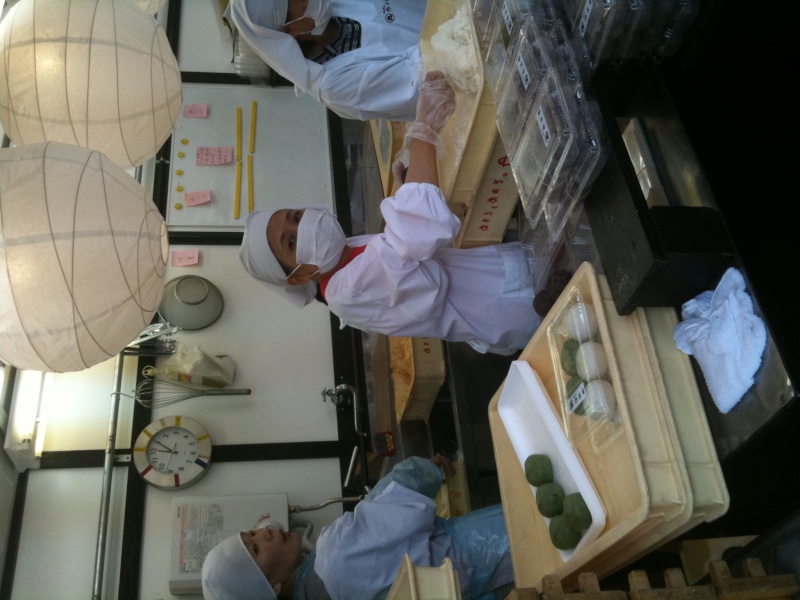 not that crazy but yeah that's the sort of craziness happening over them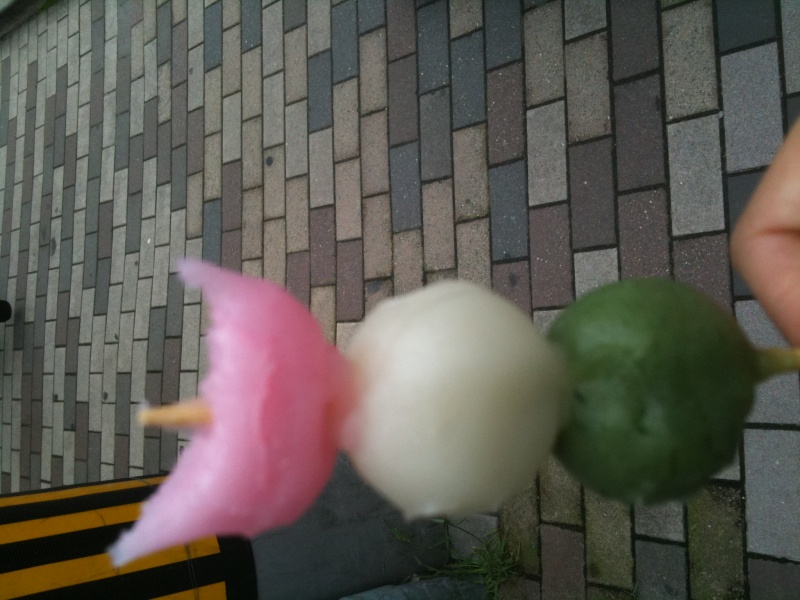 this is the mitsu color but I also got kinako which I never ate >.> my mom did, i think
Aizenkoboro or something like that.
I got this sort of expensive, well it was but the quality I think ... like $300.00.
This is an indigo dyeing place and each piece gets dipped 200 or was it 300 times. After each dip they have to let it oxidate. I won't go through all the
explaining because probably no one really cares but yeah, it's this really elaborate dyeing process and the color is a lot brighter than
normal indigo dye which goes through a chemical process not a natural one and the dye takes a while fermenting etc.
Anyway I don't really want a lot of generic stuff so I thought I'd invest in something that you can use for your entire life.
The color doesn't fade and you can get it fixed up etc. if you go back to the place. Unlikely for me since ... the trip to Japan but yeah.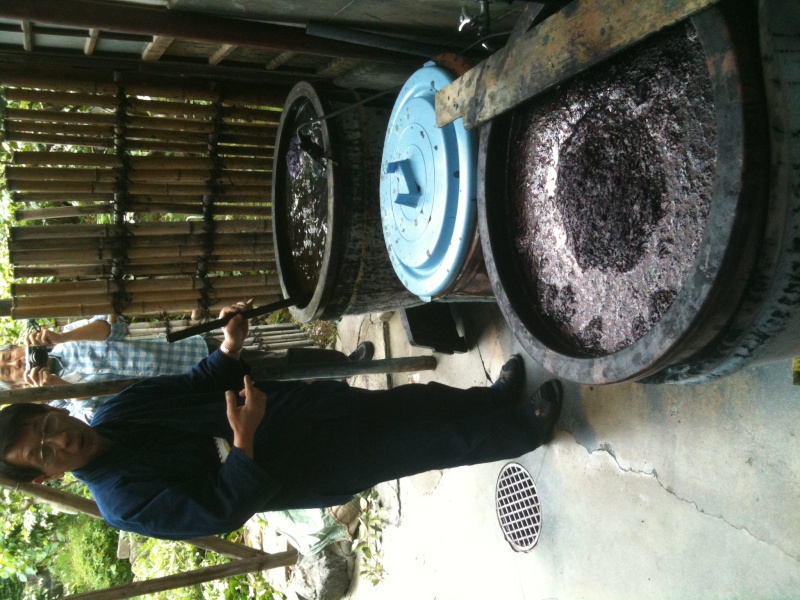 Actually it's sort of funny because the son came home while we were leaving from having tea. I guess this indigo dye is actually the victory color of samurai. When
samurai go to war they wear indigo dyed underware etc. It's the victory color. And indigo itself the way it is in the dye doesn't burn so they let me try on this
really old fireman outfit which is so heavy and even heavier when they wet it. Yeah it was pretty hot.
I wear a scarf year around so I'm looking forward to using it.
Oh like I was saying the son came back and was like .. oh you see on the television show the older women and men with blue dyed hands doing the dyeing, he said that
is just a story for the television. He has to dye 200 pieces at once because of the time it takes etc. to do the dyeing so he says once you're older you can't do it.
But when we asked him if he had dyed any of the pieces he sort of ha started going on this rant or ... wanting to let us know the truth that it's the young people
with really clean hands who do the dyeing. he is like I DYED THEM ALL!
Small soba shop.
This guy was like OMG is that dango from the corner so I gave him some ha.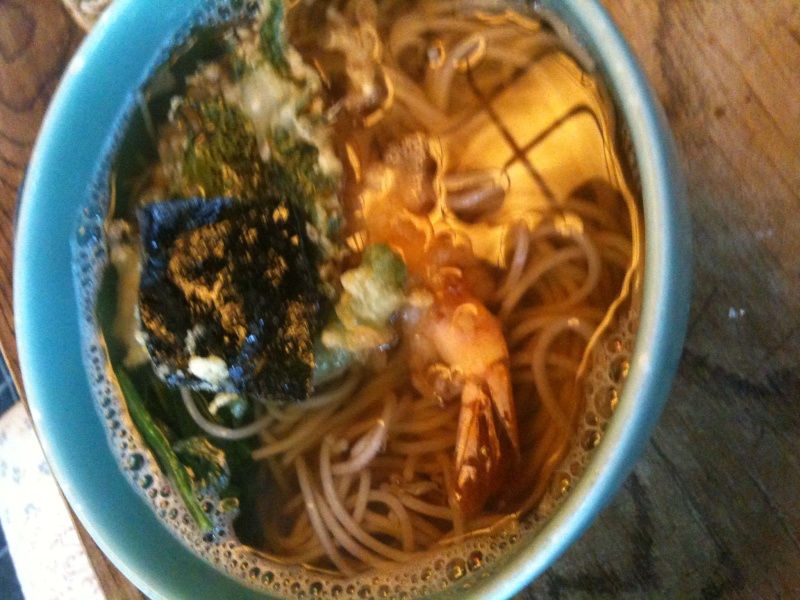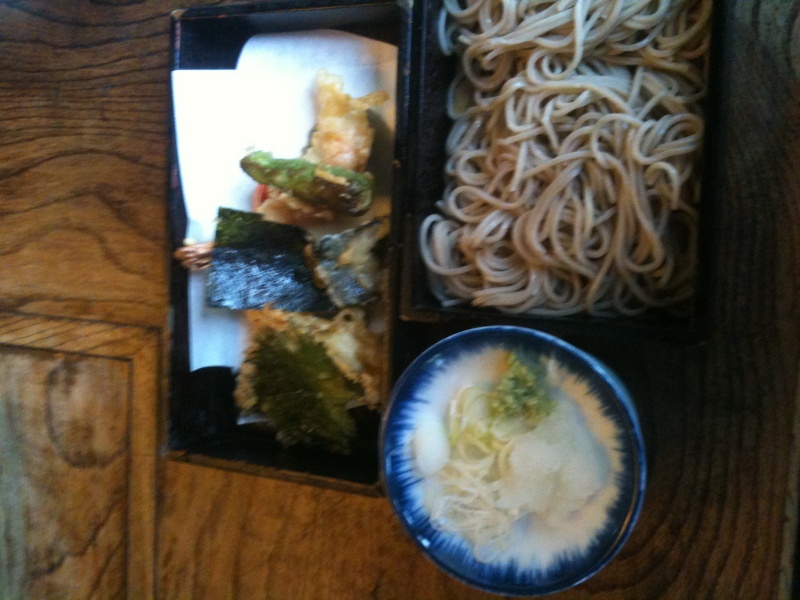 Then me and my dad went out later for this okonomiyaki place nearby. It was all like worker people hanging out after work. There were 5 guys next to us, who drank
so much beer and had SO MUCH TO EAT. omg. This guy next to me kept ordering extras like ... rice balls, salads, appetizers.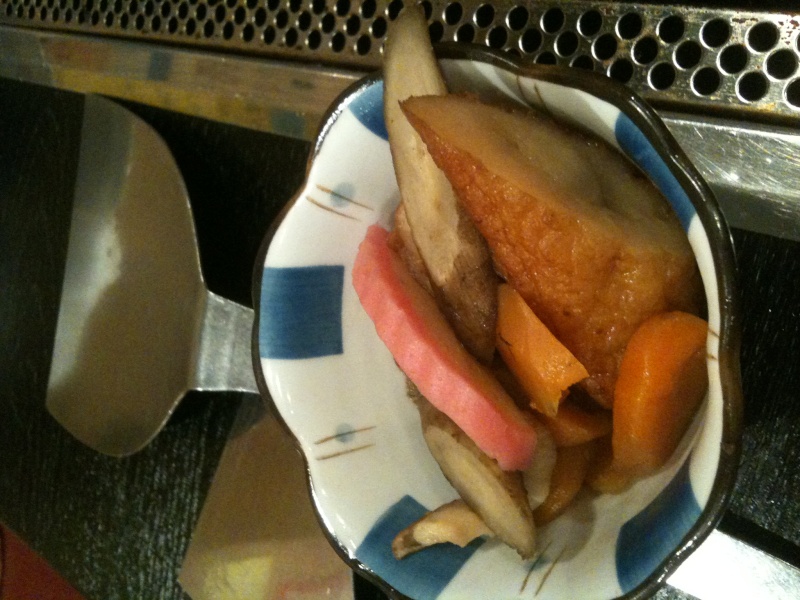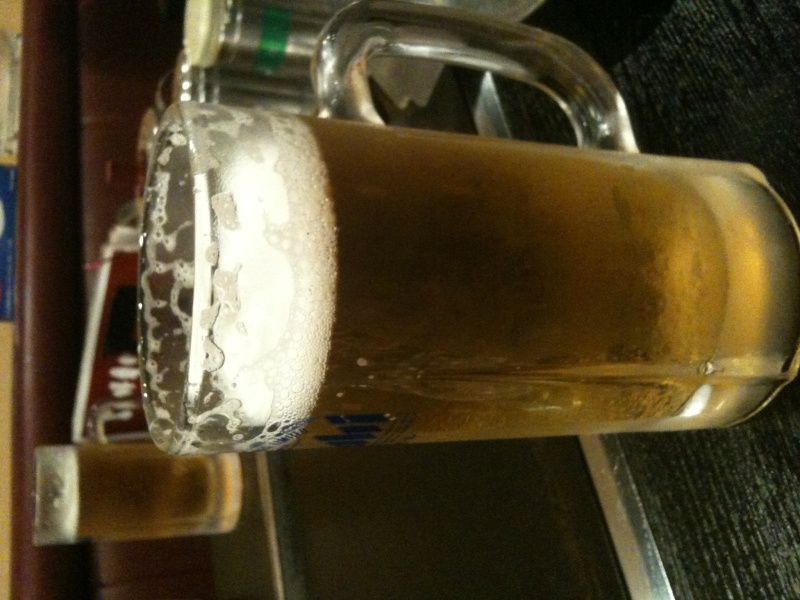 it was really good
buta, pork and also a fuwafuwa tamago one which was sooo huge.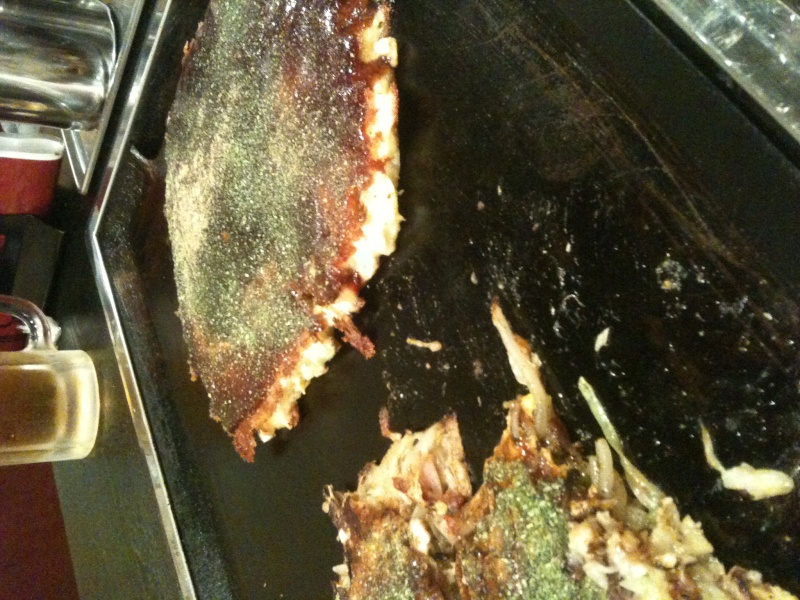 dyeing place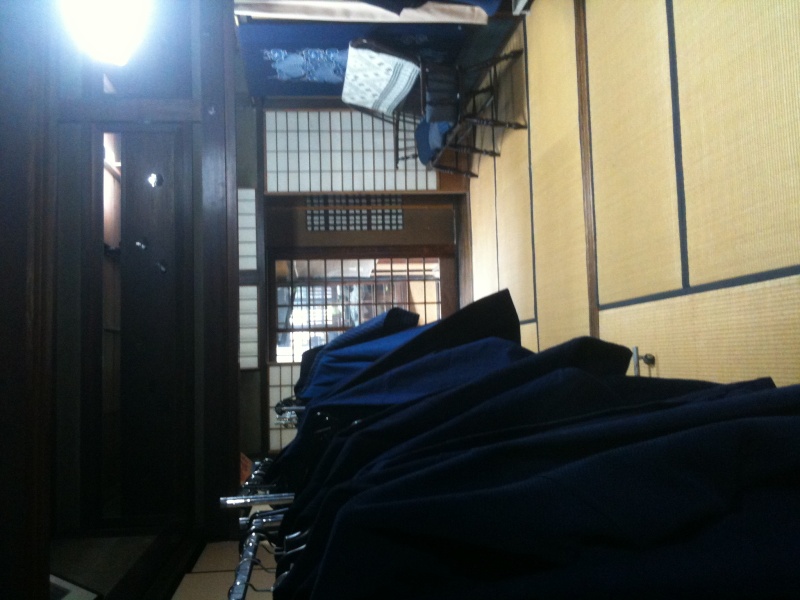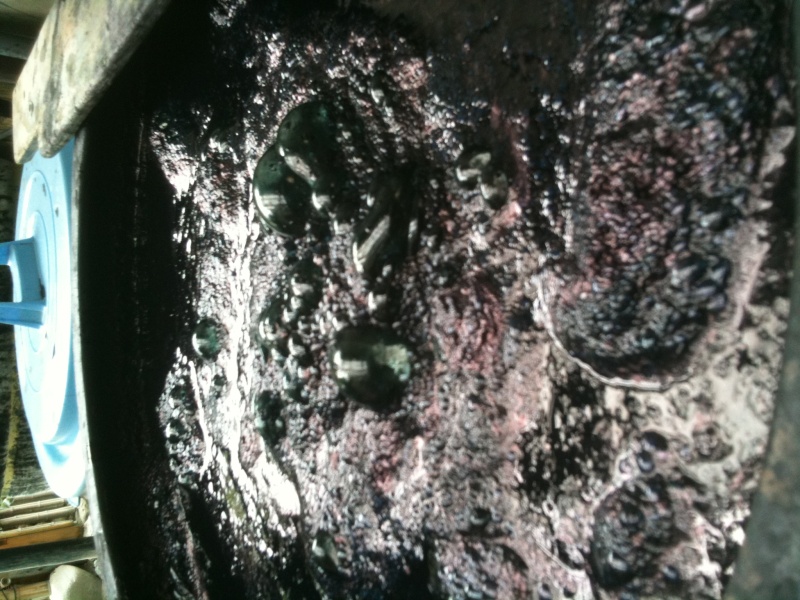 i'll do today's stuff on a different one