Well let me just say. It's a freak show. I managed to go into a maid cafe, of which there are so many that basically every few feet
a maid will bombard you with some flier. Some of them for pervy massages ... which they wouldn't even give me (the flier) initially because
basically they were only handing them out to the men.
Went into a maid cafe, not the one I wanted but that was literally impossible to find from the person online's crappy instructions.
1.No physical touching
2. No pictures
3. No asking for personal info ...
it was so seedy i felt like I walked into a whore house. Not that i've ever been so basically this is my closest memory now.
Literally ... a stage and a bunch of maids who are semi overworked but being way too anxious.
They get like really in your face.
There was this one cute maid who followed me on the street for a straight like three minutes, calling me ojousama ... I like went around
a building just to avoid seeing her again because I could like feel her breath on my neck :/.
There is a lot of Stein's Gate stuff up right now.
And still tons of K-on.
And Ak48 if anyone listens, of course cause it's Akihabara. Pretty easy area to find from teh JR Station, so that was a plus cause
I've been getting lost a lot.
Anyway super tired, from all the crowds. Like Monday not even lunch time ... why don't these people work.
It's like all older men ... anyway, some pics!
Not of food just a few girls. Cause I'm sleeepy.
Look what a real stalker I became, and fyi .. pink girl bending down .. semi unintentional.
Big Poster!
No spoilers I haven't seen any new anime in Japan ... even just old episodes of bleach wow.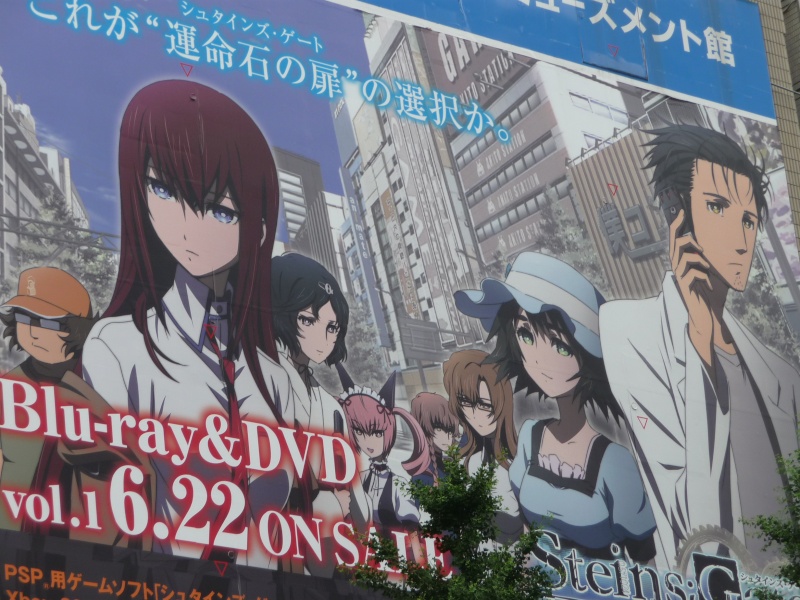 Actually the maids are pretty how do you say .. sad feeling. The ones they interview on tv, etc. are like plants. >.>
They're sort of look like girls who really need cash.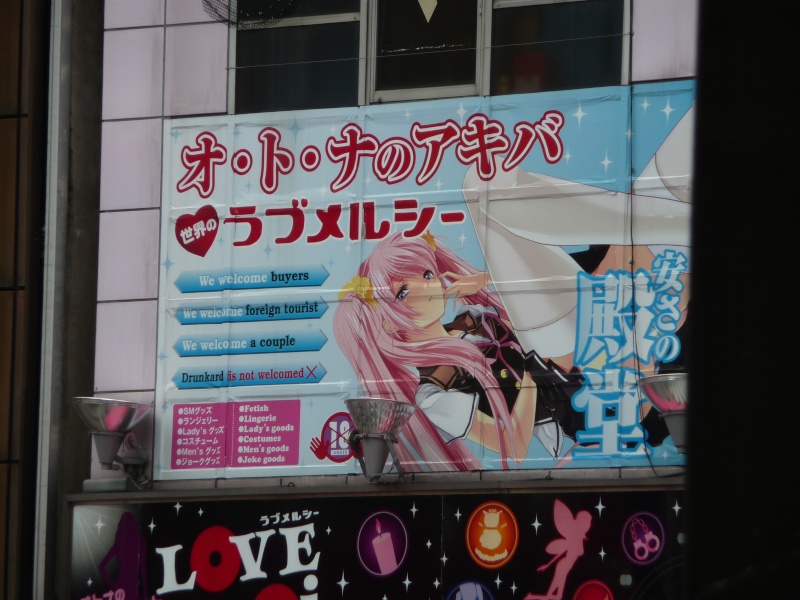 This one calls everyone oniitan, actually pretty amazing to hear it out loud. But she woudln't say it to me.
Just gave me a fat X sign.
They say that you do that Do Re Mi thing and just speak at the Mi level. There was this voice acting segment on tv, also this pretty
cool manga to anime sort of thing.