Hm, Made some excellent fish tacos, they're seriously good and I get the Talapia from Costco, and toritllas are super cheap so they're just in my freezer when I'm not using them and then
cabbage! So it's not that bad. Oh and a thing of beer, but you guys are all drunks so that shouldn't be a problem right ha.
I use the allrecipes.com recipe for the fish tacos and of course add a nice serving of sracha sauce on top of it all (not noted in recipe if you type in fish tacos recipe in google
it's like the 2nd choice.)

Then while in SF hanging around Market Street, I ate some delicious Burger from this like health food place
like i'm not sure what was so special about the burger but yeah ha. The milkshake was made from scratch there or something
from organic milk, and that tasted like super good.



Oh yeah I've been eating a lot of garlic fries everywhere. Had some at this one place that were super good! I don't know what makes some better than others though
but yeah, this one was probably good cause of that cheese on top. >.>
Just some lady lying down in front of me ... across from macy's.

Does anyone watch that guy Bob? Who does Oil paintings on television. Well this isn't like his haha. Though if I'm rich enough I might buy his tapes
cause they really put me to sleep well.

I'd also need my own tv though too.
Went to have tea with my friend since she found this place, it was actually a lot of fun and not that much more expensive than normal lunch.


So her sister is getting married soon and we were talkign about weddings! Who watches say yes to the dress, yeah I do while biking. I always wanted
to do a tea party instead of the normal like fish and steak, but like dim dum style so you can choose your own stuff as it goes around hahahaha.
I guess not a lot of people think about wedding stuff?
Or do you ...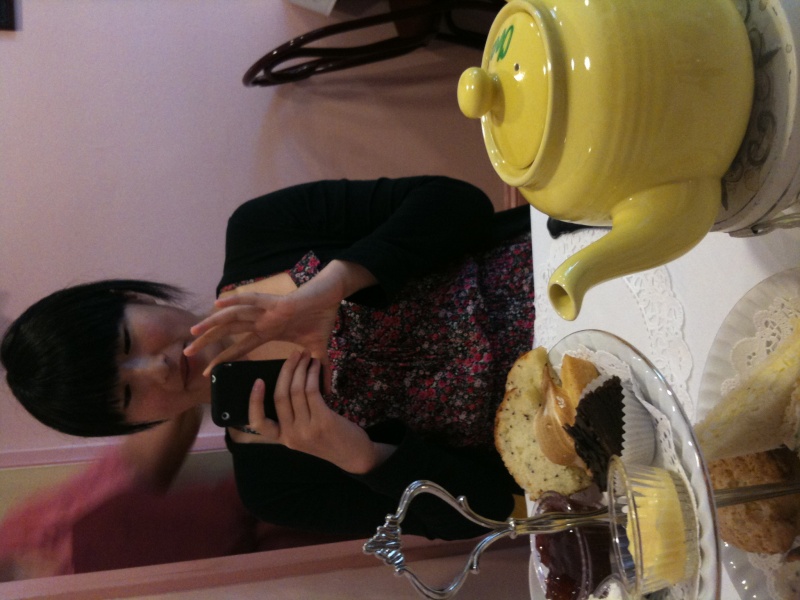 did anyone watch that diane sawyer Kacey Dugard thing, the girl who was kept in a shed for like 18 years or something?
The guy is like, "are you getting me good?" and his crazy wife/ girlfriend accomplice is like video taping the children in the background like
"Yeah, I'm getting you real good."
I'm semi ninja shot pro pretending to take a picture of the food though i think she knew from the angle of my phone, those people are just ...

Went to Yoshi's for my brothers bday ~ lots of good food.
Like three tenpura dishes, the best one is the first a sort of lobster inside of I'm not sure ... grilled seaweed?
The other was like a kakiage, which is eh, and I forget oh the other was just normal tenpura.
We had like 5-8 rolls, I seriously can't remember and three desserts.
My brother said he could have eaten like 3 rolls by himself ... but I thought I had enough.


oh i forgot about this beet salad, hate beets but the lobster and crunchy things were good.
icons are so small i can barely see what thye are I think this is a Wagyu beef, with A LOT of sesame oil so yeah not that spec.


So I have really dry skin and I'm trying to be dilligent about not scratching, but in the summer it's like ARGG, I went to my new apartment the other day, which sort
of was like a drug den when I first walked in because we're letting this guy live in our living room so there is this like curtained area way in the back, but it's like
super curtained and then the hallways are pretty small and all the lights were off cause it's so hot. So like my roommate was just in her room with the lights off and
I was like whoa, but my room is pretty big and it has two windows so ha. I'll just have to bring a few fans or sit in the library until it cools down
cause I was getting soo itchy being in that hot room.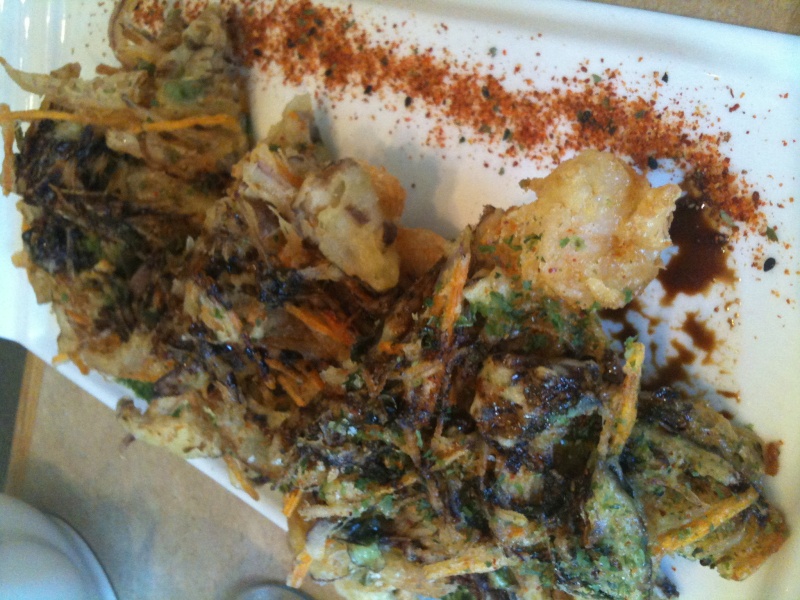 so lately I've been brushing my hair because the last two times I got my hair cut, it was like they had to comb out my rats, or how do you say, I think
people know. But yeah, my hair actually looks worse after brushing but yeah ... yeah.


so I never want to be pregnant because I LOVE maguro and coffee, I think you can have a cup a day or something, not sure ...
not together though
It's time to ROLL
ah my arm is so itchy wtf ...

i had the worst seat for pictures


i totally don't know if I get groceris or not anymore because I dreamt I got more half and half but when I woke up I still was out ...

is the internet telling me dreamt isn't a word ! I dreamed? that doesn't sound right.


so the dessert is always my favorite!! sugar ....
I think one had like a cheesecake with rose petals, and something else like ... icecream of some kind
there was a brownie which i liked with this like icecream that had fudge in it or something ... and these caramel flakes
and yeah ...
and the other was like another chocolate thing, with green tea icecream ... yeah i'm not sure anymore ha.


oh this was a breakfast I had. steel cut oats! are they better? I'm not sure.
and a cappuccino